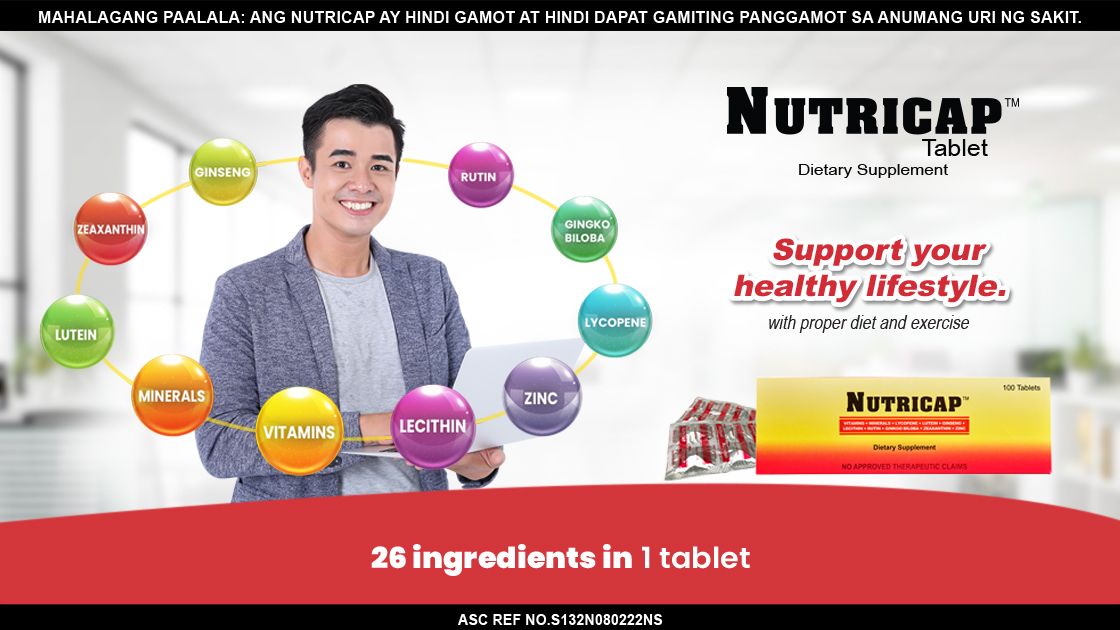 NUTRICAP Tablet
Fill the gap in your daily nutrient intake! Get a broad antioxidant protection and immunity boost with 26 vitamins, minerals and special nutrients in one Nutricap Tablet. Nutricap is your practical and cost-effective choice of a comprehensive dietary supplement, reinforced with energy enhancing and body rejuvenating agents, and helps promote heart, brain, and eye health.
Antioxidant protection and immunity
Vitamins A, C, and E, together with the minerals zinc and selenium, plus the natural ingredients lycopene, lutein, zeaxanthin, and rutin act together to support the immune system and fight against the damaging effects of pollutants and free radicals.
Heart health and circulation
Lycopene, lecithin, ginseng, gingko biloba, rutin, B Vitamins, Vitamins C and E help keep the heart healthy and blood flowing smoothly.
Sharp mind and healthy nerves
Keep focused and protected against mental stress with the brain and nerve-enhancing B vitamins, lecithin, Ginseng, and Gingko biloba.
Healthy eyesight
Together with Vitamin A, the nutrients lutein and zeaxanthin support eye health and maintain good vision.
Energy boost and body rejuvenation
Iron, Ginseng, Gingko biloba, B Vitamins, Vitamins C and E work against stress and fatigue to help you keep going the whole day.